Join us on Sunday, September 25
For a Family Reunion & Good ol' fashioned church picnic!
At Calvary, we are family. Family in Christ as his redeemed children. Family with each other as we share in the blessings that he gives us as part of Calvary Lutheran Church and School. Join us as we celebrate God's goodness — and fifty years of school ministry — at Calvary's Family Reunion Sunday!
When: Sunday, September 25th
Worship Service: 9:30 AM
Family Reunion Celebration: 11 AM - 2:00 PM
Gather with friends and family to give thanks to God for the wonderful blessings we share. On Family Reunion Sunday we'll gather for one worship service at 9:30 AM. Calvary's instrumentalists, choirs, and school children will beautify worship with gifts of music as we celebrate the blessings of the present in this fiftieth year of school ministry.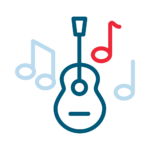 What's a family reunion without some good, ol' fashion fun! Kids and adults alike will enjoy an afternoon of yard games and live music from Calvary's musicians! Catch up with old friends and meet new ones!
Our Calvary family comes from all over the world! Let's celebrate this unique diversity through food. Sign up to bring a dish that your family loves! Share it in a picnic style lunch with your Calvary family!